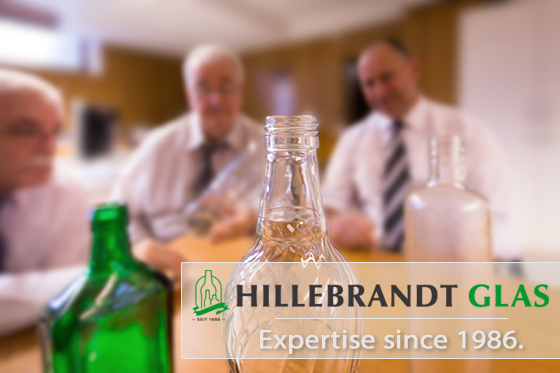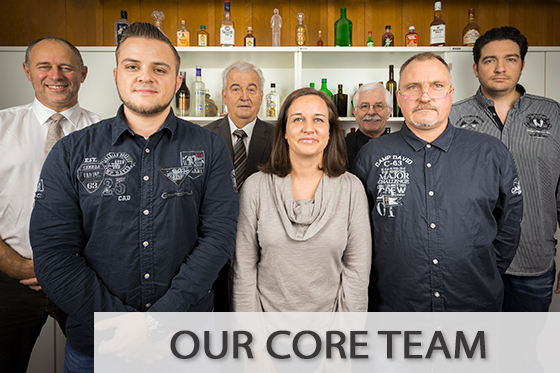 About Hillebrandt Glas
Hillebrandt Glas is a well-established bottle wholesaler based in South Berlin. Owner Klaus-Rüdiger Hillebrandt, a master distiller by profession, successfully managed a Berlin liquor company for more than ten years, before devoting himself exclusively and extremely successfully to the glass bottle trade as of the 1986. Therefore, Hillebrandt Glas is very knowledgeable about the needs and requirements of bottling operations from personal experience.
In the meantime, the formerly small company in the liquor bottle trade has become one of the most important glass bottle dealers in Germany. While the Hillebrandt Glas company has enjoyed an excellent reputation and a high level of name recognition in the liquor industry ever since it was founded and still does today, our name has long since become a household name as a reliable supplier to the wine industry and the brewery sector as well. Furthermore, Hillebrandt Glas also supplies bottles and jars to numerous companies in the fruit juice and delicatessen industry.
Hillebrandt Glas purposely dispenses with maintaining its own warehouse inventory; it operates exclusively in the area of third-party business transactions (drop shipping) and has numerous exclusive distribution contracts with leading producers in the European glass industry. That lean cost structure enables Hillebrandt Glas to operate at the manufacturer level. Numerous items in its extensive product range are produced using proprietary molds and distributed exclusively.
The customers of Hillebrandt Glas include many well-known companies that are market leaders in various segments of the bottling industry, thus additionally underscoring the competitiveness of Hillebrandt Glas. Today bottles and jars supplied by Hillebrandt Glas can be found in every large chain in the food retail sector and at all well-known discount stores.
Sales are effected exclusively on the basis of entire pallets in economically expedient quantities. As a rule, deliveries are made in a cost-effective fashion directly from the glassworks on the basis of entire freight vehicle loads; when agreed upon, picking up merchandise from the glassworks is possible by the pallet.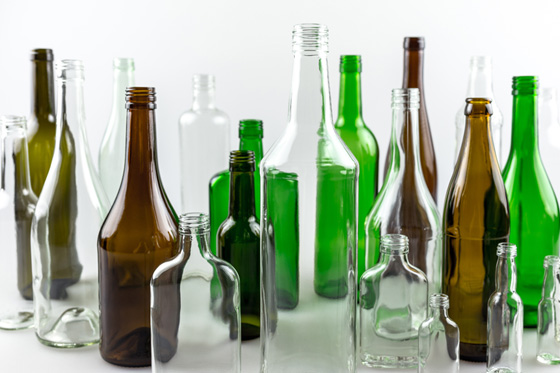 Standard glass bottles
Our product range encompasses well over 200 different standard bottles in a huge variety of colors and sizes from 20 ml to 3,000 ml for the liquor, wine, beer and fruit juice sectors. Diverse standard items for the food and delicatessen industry round off our range of reasonably priced standard products.
From miniature bottles and flasks to "Gradhals" (straight-neck) and "Kurzhals" (short-neck) bottles, customers in the liquor industry will find nearly all familiar standard liquor bottle shapes, also including "Kropfhals" bottles and whiskey bottles. Our portfolio is rounded off by Napoleon bottles as well as the well-known "Zwiebelturm" vodka bottle. Wine bottling enterprises can take advantage of at least as many Bordeaux, Burgundy and Rhine wine style bottles of various sizes, finishes and colors.
Long-neck and NRW bottles for beer and lemonade bottling operations are available, as are fruit juice bottles with MCA or TO finishes. Of course, our product range also includes: various Marasca, Dorica and Bordeaux shapes for industrial oil and vinegar producers!
And even if a standard shape is not listed on our website, it is worth asking about because we can procure many models in response to a specific inquiry!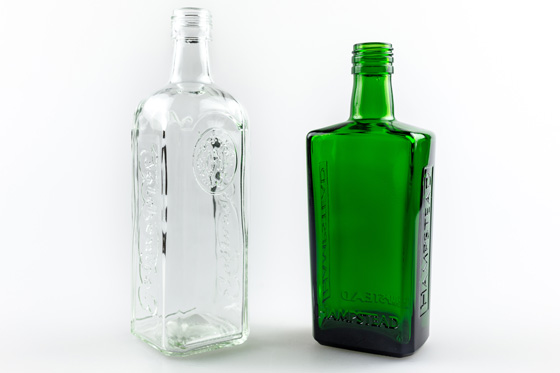 Custom glass bottles
Hillebrandt Glas also demonstrates a high level of competence in the area of custom-made special-shape bottles. We are proud to showcase the over 20 custom-made bottles for renowned brand-name items and well-known trademarks that are currently in use! For a long time, important companies have relied on our experience when they are planning to develop custom-made special-shape bottles for industrial use.
By designing their own bottle shape, our customers have the opportunity to create a special and memorable product that stands out from the crowd. That step should be well considered, as the costs incurred for development and molds during the run-up phase range between 15,000 and 65,000 Euros. For that reason alone, taking advantage of our many years of experience in that area pays off for every customer. Particularly when the objective is to precisely co-ordinate technical options between customers and manufacturers in order to successfully manage projects of that type. For those general technical conditions frequently impose limits on the scope of imaginative design.
Hillebrandt Glas supports its customers from the technical as well as financial perspective with regard to optimal design for custom-made bottles. Thanks to the specialist competence of our staff, we guarantee prompt and reliable processing of all customer inquiries.